The Automatic Lashing Platform and System
Complete automation of the landside twistlock handling process: Safe - Economical - Ecological
---
ALP - Twistlock Handling
Twistlock handling
quick operation - automatic storage
The KALP GmbH developed a fast and reliable system which can fix and remove twistlocks and furthermore stores most of the twistlock and stacker types currently available in internal magazines in a fully automatic process.
These magazines can hold up to 2,400 stackers, the twin lift capable ALP is equipped with eight magazines.
Given balanced load and discharge figures, the ALP magazines provide capacity for discharging and loading a full deck or hold of containers of the 14,000 TEU container vessels of the last generation (300 deck moves / 360 hold moves).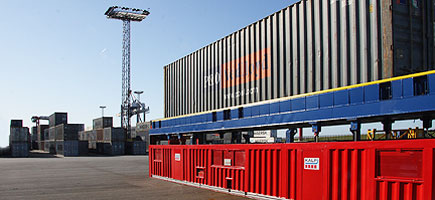 ALP - Customized Solutions
Our customized solutions for your individual terminal operation
ALP
Driven by a self-sufficient hydraulic system, best for straddle carrier terminals, no external energy supply is required, easily portable by STS crane and straddle carrier. Especially green terminals with a high environmental awareness will prefer this version of the ALP. This product meets all the requirements of a CO2 reduction and offers a wide variety of green credentials. Neither electricity nor diesel is required when using the ALP for operation under the STS crane.
ALP-S
The solution for STS-cranes with pre-installed lashing platforms. A system designed to be installed and operated directly on STS cranes in pre-installed lashing platforms with the same twistlock technology features as the ALP. The ALP-S is integrated in a significantly small frame, and can be operated electrically or electro-hydraulically according to customer requirements. Due to its position on the crane above the quay area, the ALP-S concentrates the pinning process on its isolated position, thus separating the different operational areas, making them independent. The ALP-S can be connected to the power supply of the STS crane.